Order Stationery
To order stationery for your department or entity, set up an account through Allegra Printing, our approved supplier. You can order customized business cards, letterhead, envelopes and notecards on their site.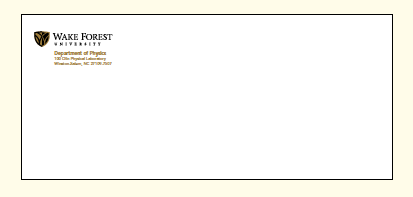 The Wake Forest University stationery system is designed to unify all correspondence under a consistent graphic identity. All stationery items, including letterhead, business cards, envelopes and note cards, will be printed by our designated vendors and may be ordered for each University entity. Do not attempt to re-create any item in the stationery system.
Order stationery through Allegra Printing.
Microsoft® Word Online Template
For letters that will not be printed, but instead are shared electronically, you can use the Word template. It is intended for electronic distribution only and is not to be printed from a desktop printer. Do not print stationery from this template, the logo will look fuzzy and the designers will be sad.
Download the letterhead template from the Google Drive.
Email Signature
Every communication from Wake Forest University is part of our identity, including email. An email signature acts as a business card and lets the recipient know that the email is an authorized correspondence from Wake Forest personnel. Therefore it is important to follow the email signature guidelines for all external emails. Follow the signature configuration shown here.
Please do not use an electronic version of a business card in place of this email signature — they often fail to render correctly, particularly on mobile devices. Similarly, we do not recommend including images in your signature, using decorative color backgrounds or typeface colors other than black.
Full Name
Title
Wake Forest University
Department
Address line 1
Address line 2
e-mail address
p 123.456.7890
f 123.456.7890
Microsoft Word Name Tag Template
An electronic user template of the Wake Forest Name Tag has been created in Microsoft Word. This is a template for Avery Label 5395 peel-and-stick label.
Download the name tag template from our Google Drive.
Name Badge
The Wake Forest name badge is constructed with brushed brass plastic and black etching. You may work with a vendor of your choice to create name badges, using the approved template, or you may order by email from our pre-selected vendor.
Email to order name badges for your department or office.