Primary Palette
The primary colors for Wake Forest University are Wake Forest Gold and black. These are the traditional colors of our University and evoke a rich heritage that has been part of Wake Forest from the beginning.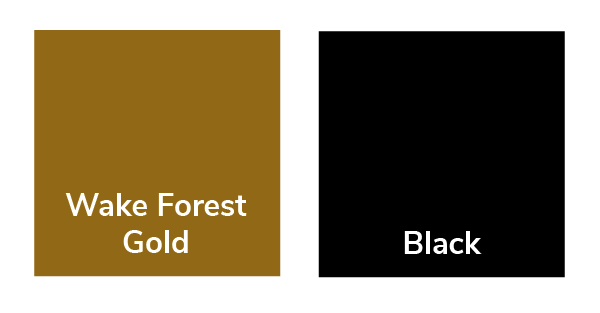 Wake Forest Gold suggests prestige and nobility, qualities that reflect the stature of our institution. Yet it is also a warm color, indicating the humanity at the heart of our achievements. Wake Forest Gold is generally best when used in judicious amounts rather than as the dominant color in an application.
Black is the color of boldness and strength, reflected in the confidence and courage that characterize the Wake Forest academic culture.

For examples of appropriate use of the Primary Palette, please refer to the Design Examples in the Resources section of this guide.
Always reproduce colors using the formulas specified in this guide. Do not use the standard software translation values when converting PMS colors to CMYK or RGB. Always reproduce the colors in the Primary Palette at 100%; do not screen.
Wake Forest Gold:
PMS 871
CMYK: 35, 45, 92, 12
RGB: 158, 126, 56
HEX: 9E7E38
Black:
CMYK: 0, 0, 0, 100
RGB: 0, 0, 0
HEX: 000000
Web Text Palette
The Wake Forest Gold has been darkened slightly for text on the web to aid in accessibility and should be used on a white background. This is for website visitors with visual disabilities who are more easily able to read text with color contrast ratios of 4.5:1 or greater and is required by the Americans With Disabilities Act. (For more details about our web styles, visit https://styleguide.web.wfu.edu/)
Web Gold:
RGB: 140, 109, 44
HEX: 8c6d2c
Secondary Palette
The secondary colors for Wake Forest University are a warm yellow-gold and dark gray. These colors support our primary colors while offering variety.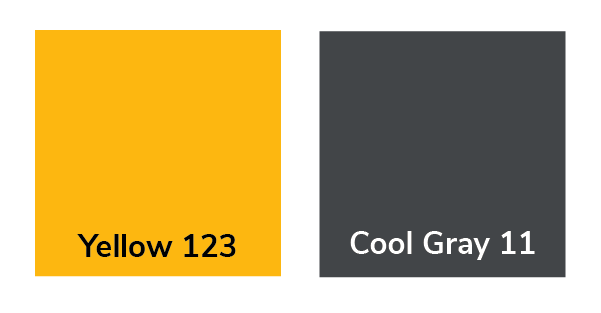 Yellow:
PMS 123
CMYK: 0 16 89 0
RGB: 253 195 20
HEX: FDC314
Grey:
PMS Cool Gray 11
CMYK: 44 34 22 77
RGB: 83 86 90
HTML 53565A
Accent Colors
Your dominant colors should be Old Gold and Black. Additional accent colors are permitted, as long as they are not Duke blue, Carolina blue or State red. Accent colors should be used sparingly for applications such as bar charts, emphasizing small amounts of text or distinguishing particular events.
We provide below a palette of accent colors that work well with each other and our primary colors for the convenience of anyone who doesn't want to choose their own colors.

Blue
PMS: 7706
RGB: 0 101 138
HEX: 00658A
CMYK: 96 22 8 29
Orange
PMS: 157
RGB: 233 156 79
HEX: E99C4F
CMYK: 0 40 71 0
Green
PMS: 334
RGB: 0 146 112
HEX/HTML: 009270
CMYK: 100 0 68 1
Red
PMS: 485
RGB: 215 31 15
HEX: D71F0F
CMYK: 0 95 100 0
Purple
PMS: 7649
RGB: 150 20 116
HEX: 961474
CMYK: 34 100 6 17
Paper Stock
Stationery
The paper stock for all stationery items is Neenah Environment PC100 White. It is a 100-percent post-consumer-waste (PCW), FSC certified paper.
Collateral Materials
Uncoated paper stock is preferred in nearly all applications.
Wake Forest University is committed to environmental responsibility, as reflected in its selection of recycled paper stocks for official University communications. For questions about paper stock usage, contact CER.
PANTONE® and PANTONE MATCHING SYSTEM® (PMS) are the property of Pantone, Inc. The colors shown on this page and throughout this guide have not been evaluated by Pantone, Inc. for accuracy and may not match the PANTONE® Color Standards. For accurate standards, refer to current PANTONE® publications.