Main Content
Banners
Banners are an excellent way to promote Wake Forest University events and programs. As such, they should be consistent with our visual identity. Strive for a design that is bold and professional, yet friendly. By following a few standards, you can maintain consistency. Keep text to a minimum for legibility. Make the headline and key benefit prominent, and let the logo be the banner's signoff, positioned at the bottom or far right. Divide the banner into two colored sections, which allows the information to be easily absorbed. Use Avenir in heavier weights for the best legibility, and use Minion Semibold or Avenir for the smaller text.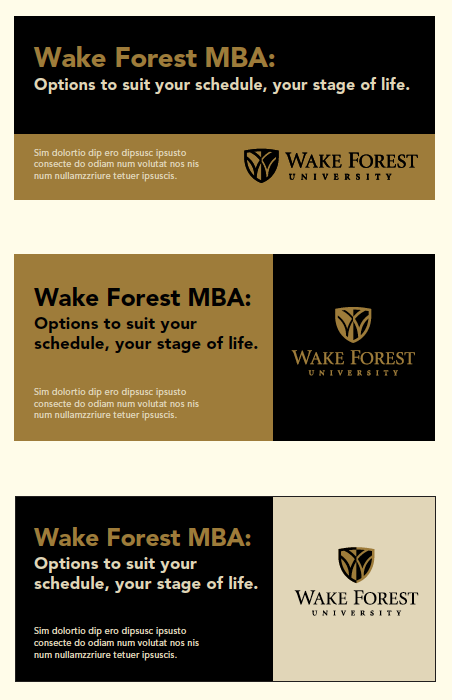 PowerPoint Template
An electronic user template has been created in PowerPoint®. Use this template to easily create PowerPoint presentations. As with any large-format medium, the fewer words, the more effective the message. Follow the layout style shown, and create the presentation using clean, uncluttered pages.
Download the PowerPoint template.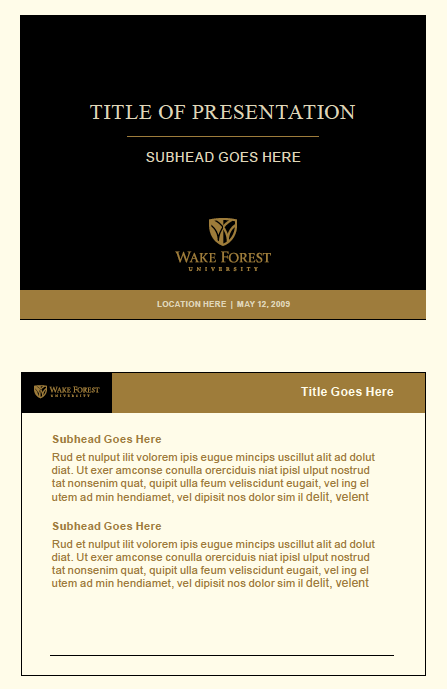 Signage
All Reynolda Campus signage requests are processed through the Department of Facilities and Campus Services.
Complete a work order for interior signage.
Television and Video
Requests for the Wake Forest logo to be used in television and video format are handled on a case-by-case basis. Email creative@nullwfubmc.edu to request a logo for tv or video.